10 Dreamy Destinations: Travel Ideas for Your Next Adventure ===
Are you ready to embark on a journey that will take you to unimaginable places? Whether you're seeking heavenly havens or enchanting escapes, these 10 dreamy destinations will ignite your wanderlust and leave you yearning for more. Get ready to unveil paradise, discover hidden gems, and find ultimate travel inspiration. From unforgettable adventures to epic bliss, these destinations are beyond your imagination. So pack your bags, grab your camera, and get ready for the adventure of a lifetime!
1. Unveiling Paradise: Top 10 Dreamy Destinations Await!
Welcome to paradise! The first destination on our list is Bora Bora, a tropical haven in French Polynesia. Imagine waking up to crystal-clear turquoise waters, staying in luxurious overwater bungalows, and exploring vibrant coral reefs. This idyllic island will surely leave you speechless.
Next on our list is the stunning Amalfi Coast in Italy. With its dramatic cliffs, charming coastal towns, and mouthwatering seafood, this UNESCO World Heritage site is a must-visit for any wanderer. Take a leisurely drive along the winding coastal roads and soak in the breathtaking views.
2. Enchanting Escapes: Discover the World's Hidden Gems!
If you're seeking an off-the-beaten-path adventure, head to Bhutan, the land of the Thunder Dragon. Nestled in the Himalayas, this mystical kingdom is known for its untouched landscapes, ancient monasteries, and welcoming locals. Trek through lush valleys and immerse yourself in Bhutan's rich culture.
For a truly magical experience, visit the Plitvice Lakes in Croatia. This national park is a natural wonderland, with cascading waterfalls, crystal-clear lakes, and lush forests. Take a leisurely stroll along the wooden pathways and let the beauty of this enchanting escape captivate your senses.
3. Wanderlust Worthy: Your Ultimate Travel Inspiration!
Indulge your wanderlust in the vibrant city of Tokyo, Japan. From towering skyscrapers to serene gardens, Tokyo seamlessly blends modernity with tradition. Immerse yourself in the bustling streets of Shibuya, admire the cherry blossoms in Ueno Park, and savor authentic sushi in Tsukiji Fish Market.
If you're craving adventure, head to the mesmerizing Serengeti National Park in Tanzania. Witness the awe-inspiring wildebeest migration, spot the Big Five, and sleep under a blanket of stars in a luxurious safari camp. This ultimate travel inspiration will surely leave you with memories to cherish forever.
4. Journey to Bliss: Unforgettable Adventures Await!
Get ready for an unforgettable adventure in the magical land of Iceland. Known as the Land of Fire and Ice, Iceland offers jaw-dropping landscapes, from majestic waterfalls to geothermal hot springs. Embark on a thrilling glacier hike, explore volcanic caves, and soak in the tranquility of the Blue Lagoon.
For a journey to bliss, set sail to the Maldives. This tropical paradise is a picture-perfect destination with its white sandy beaches, crystal-clear waters, and colorful coral reefs. Snorkel alongside vibrant marine life, unwind in luxurious resorts, and let the Maldivian charm sweep you off your feet.
5. Heavenly Havens: Prepare for an Epic Adventure!
Prepare yourself for an epic adventure in the mystical country of Peru. Discover the ancient ruins of Machu Picchu, hike through the breathtaking Andes Mountains, and explore the vibrant markets of Cusco. This heavenly haven will not only captivate you with its beauty but also its rich history and culture.
For a unique and heavenly experience, visit the Great Barrier Reef in Australia. Dive into a world of vibrant coral gardens, swim with tropical fish, and marvel at the breathtaking marine biodiversity. This natural wonder is a true paradise for all diving enthusiasts.
6. Beyond Imagination: 10 Dreamy Destinations Awaiting You!
To truly go beyond imagination, venture to the magical land of Morocco. Lose yourself in the winding alleys of Marrakech's bustling medina, ride a camel through the Sahara Desert, and immerse yourself in the vibrant culture of this North African gem. Prepare to be enchanted by Morocco's rich history and breathtaking landscapes.
Last but not least, set foot in the surreal landscapes of Cappadocia, Turkey. Marvel at the fairy chimneys, take a hot air balloon ride over the mystical valleys, and stay in a cave hotel for a truly unique experience. Cappadocia will leave you in awe with its otherworldly beauty.
Your Dreamy Adventure Awaits!===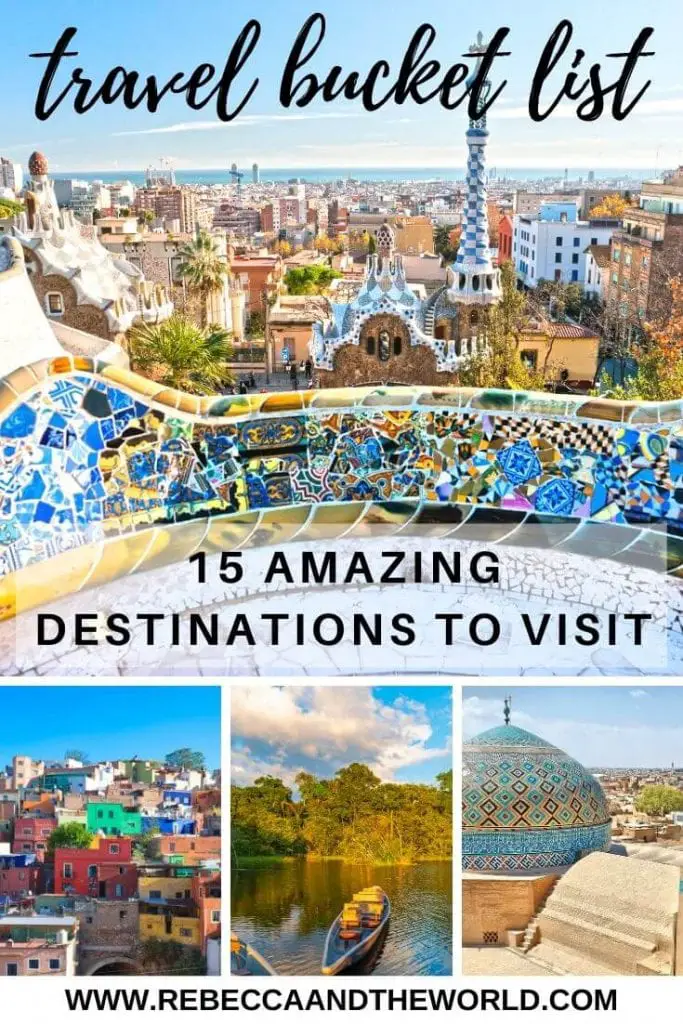 Talk about a dream destination this sounds just perfect right PROTIP If you want to plan a trip to the Smoky Mountains you need to add at least a few hikes check my complete guide on the Top 10 Hikes in the Smoky Mountains and start planning your Adventure trip57 Yosemite National Park California USA Why vacation here A vacation to Yosemite National Park in the US will reveal scenic landscapes youll never forget Pristine forests of towering redwoods roaring waterfalls and epic hikes along granitefaced peaks will have nature lovers falling in love with Yosemite6 Affordable Dream Vacations Under 1000 to Take in 2021 cars All Deals Compare Prices Get Daily Travel Tips amp Deals By Starting at just 899 for a fourday backpacking Adventure the 21 Lifechanging Trips Everyone Should Experience
at Least Once From African safaris to mustvisit cities these onceinalifetime trips will make you want to plan your next great Adventure10 dream vacation destinations around the world 10th June 2023 Lora Pope Will you set out to explore the natural wonders of Taiwan go trekking through undertheradar trails in the Himalayas or hop on a plane with your favourite travel buddy to discover a new island in the CaribbeanIf you39re traveling with friends book a house near the ocean and spend your time near or in the water surfing snorkeling fishing and kitesurfing When you39re ready for more a short tripEF Go Ahead Tours offers a selection of culinary tours in Europe and other destinations including an 11day itinerary through towns in Umbria and Tuscany that begins in Florence and ends in Rome4
Glenwood Springs CO If a summer vacation in the mountains sounds like heaven to you head to Glenwood Springs Colorado This Rocky Mountain escape delivers when it comes to both scenic vistas and outdoor Adventure To explore the citys famous hot springs visit Iron Mountain Hot Springs which offers a large 94degree family pool as
Now that you've discovered these 10 dreamy destinations, it's time to start planning your next adventure. Whether you're seeking paradise, hidden gems, or ultimate travel inspiration, these destinations will exceed your wildest dreams. So pack your bags, embrace the unknown, and get ready to embark on a journey that will leave you with memories to last a lifetime. Your dreamy adventure awaits!